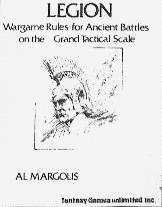 ---
| | |
| --- | --- |
| Period | Ancient battles on the grand tactical scale. Designed to be fast playing. Includes army organizations for major nations. |
| Scale | Figure scale is 1:50-100. Ground scale is 1 in = 10 yd. |
| Basing | Uses WRG basing |
| Designer | Al Margolis |
| Publisher | Published 1976 by Fantasy Games Unlimited |
---
Peter Anderson (Gonsalvo@aol.com)
I admire Legion, and used it as a basis for a set of my own (house) Ancient rules, with which I fought many enjoyable actions between a variety of armies.

One of the nice things about Legion was the ability to represent the entirety of an Ancient battle, and with a very modest number of castings.

Also, the rules don't give you a headache trying to read them! A quite different, well-done set. Still well worth playing.
If you would like to add your opinion to this webpage, use the following form or send email to the editor.
---
If you know of any resources for this game, or if you have material you would like to make available to the Net, please let us know.
---
Last Updates
22 April 1999
comments by Peter Anderson
1 April 1997
reorganized
28 November 1996
page first published
Thanks to Michael Childers (michaelc@flash.net)
for providing this information
Comments or corrections?