Brief Description
These rules are designed to be "...fast-playing and above all else fun," using period-driven systems based on the Hack rules system. The focus is on warfare between historical adversaries in the era prior to 500 B.C. ("...when the Old Testament was committed to writing."). Game can be played in Tactical or Strategic scale.

Armies are purchased using a point system, weighing morale, formation, armor, weapons, and leaders. Army lists were originally planned for a supplement (The Book of Lists), but plans for that book have been cancelled. Terrain is generated using a random system. If using the optional rules, armies are deployed using one of several historical set-up templates ("The Horn of Dagon," "Lamentation of Moab," and so forth).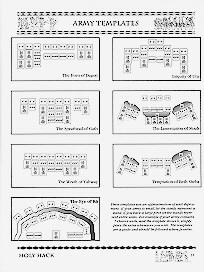 Combat rules cover charging, feint charges, pass-through charges, evade moves, pursuit moves, ambushes, morale and rout. A target priority system governs which units can shoot at which targets. Optional rules allow for champions to challenge one another.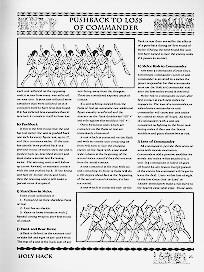 Included is a sample scenario - Qadesh 1300 B.C., with Hittites ambushing the Egyptian army of Rameses II.