De Bellis Multitudinis (DBM)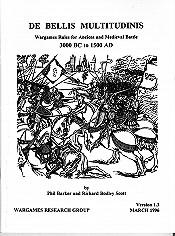 ---
De Bellis Fantasticus is a set of supplemental DBM rules published by Keep Wargaming. Requires use of DBM 2.0 or later. The supplement was written by members of the Ilford Wargaming Club. Additions include new troop types, and new variations of existing troop types. Covers magic and flying.
DBM Measuring Sticks are made by M.E.O.W. (Mid-East Ontario Wargamers), and are available throught Pharaoh's Arms. (They also do measuring sticks for DBA and DBR.)
---
---
By Richard Bodley Scott, one of the game's designers. Includes beginner's guide, proposed rules changes, and list errata.
The best and most comprehensive DBM site on the Web.
Battle reports website.
Nunawading Wargames Association's page for DBM-related rules. Includes tactics, photo gallery, guide to latest rules revisions.
Keith Barker's (keithb@april.se) website includes army lists, a photo gallery, notes on double basing, and a list of recommended books.
Includes a beginner's guide, photos of armies, campaign and battle reports, and DBM variant rules for the American Civil War.
Scenario with order of battle and map. Greeks vs. Persions from Herodotus.
Scenario with order of battle and map. Gauls attack a Roman camp, Caesar must come to the rescue.
Scenario with order of battle and map. From Caesar's second African Campaign, a mini-campaign.
If you know of additional online resources, or if you have material you would like to make available to the Net, please let us know.
Fans of this game will want to subscribe to the DBM mailing list. To do this, send an email to majordomo@list.stanford.edu. The body of the email should contain only this line:
subscribe dbm-list
This mailing list is very active, with several posts per day. According to Ed Allen (allen@genome.stanford.edu), the list's original maintainer:
The list grew out of an e-mail discussion of DBM, mostly among players in the San Francisco Bay area, where the CC: list we were building up was getting too big and the CC: lines were getting out of sync so people were starting to get left out of conversational threads. It then grew in a month and a half or so since its inception to just over 60 members from all over.
Past postings are archived and searchable at Reference.com.
Salve, scrivo per informare tutti che c'è anche una mailing list italiana di DBM, se siete interessati mandate un email a questo indirizzo: stefanod@softhome.net
(Translation: There is also an Italian DBM mailing list. For more information, send an email to the above address.)
---
Last Updates
7 March 2001
Plataea, Relief of the Camp, Ruspina scenario links updated
5 October 1999
added Battlefields of Albion
19 August 1999
added Bruce Ferguson link
16 February 1999
reviews split off
27 August 1998
Plataea, Relief of the Camp, Ruspina scenario links
Comments or corrections?